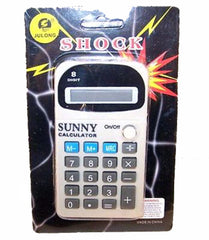 SHOCKING CALCULATOR (Sold by the dozen)
THIS IS THE PERFECT JOKE ANYONE

JUST LEAVE IT AROUND THE HOUSE
LEAVE IT ON SOMEONES DESK
WHEN THEY TRY TO TURN IT ON
THEY RECEIVE A POWERFUL YET HARMLESS SHOCK

LOOKS SO REAL
ABOUT 4 1/2 INCHES TALL X 2X 1/2 INCHES

GET YOUR WORK BUDDIES
SHOCK YOUR FAMILY
YOUR FRIENDS ARE GOING TO LOVE THIS

THIS TRICK WILL WORK EVERY TIME
YOU'LL NEVER STOP LAUGHING!
EVERYONE WILL WANT ONE
MAKES A GREAT GIFT
NOT REAL CALCULATOR

GREAT JOKE AT THE OFFICE
PERFECT FOR ANYONE
JUST LEAVE IT ANYWHERE
NOBODY WILL SUSPECT ANYTHING
ZAP!!!!!!!!!!!!!!!!!
LOOKS LIKE A REAL CALCULATOR
Related Products