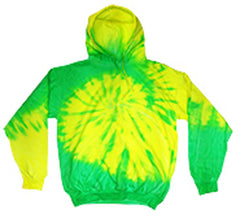 GREEN YELLOW FLO SWIRL TIE DYED HOODIE (sold by the piece )
AWESOME
HOODIES ARE POPULAR
WAY COOL PULL OVER SWEAT SHIRT
LONG SLEEVE
HEAVY WEIGHT 50% COTTON 50 % POLYESTER HOODIE
BRIGHT VIBRANT COLORS
GREAT FOR ANY AGE
EVERYONE AT SCHOOL OR THE OFFICE WILL LOVE THIS HOODIE
DESIGN MAY VARY SLIGHTLY FROM PICTURE AS NO TWO ARE EXACTLY ALIKE
BRAND NEW HOODIE
DYE IS SET IN HOODIE AND WILL NOT FADE IN THE WASH
TO KEEP COLORS BRIGHT HANG DRY
YOU'LL LOVE YOUR NEW TYE DYED HOODIE !!!! .