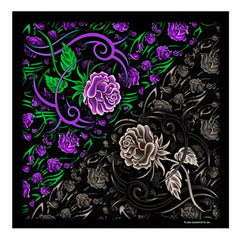 DELUXE TRIBAL ROSE BANDANA (Sold by the piece or dozen)
INDIVIIDUALLY PACKAGAED
Tribal Rose Biker Bandana measures 21"x21" and has two original designs
, allowing for wear in multiple ways.
 An intricate tribal rose design in purple and green on one half, with an identical design in black and white on the other.
 Wear this style on your head, under your helmet or around your neck to add a little attitude to your biker style!