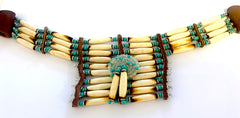 TURQUOISE SMALL INDIAN STYLE BUFFALO BONE BREAST CHEST PLATE WITH DREAMCATCHER( sold by the piece)
COOL NATIVE STYLE BREAST PLATE
MADE WITH REAL BUFFALO BONE
 BREAST PLATE
  SILVER BEADS IN THE MIDDLE ANED ENDS OF BONE
REAL LEATHER
ABOUT 3 1/2 INCHES LONG X 10 INCHES WIDE
THIS STYLE WAS WORN IN NATIVE CULTURE AS ORNAMENTATION AND FOR PROTECTION
HIGH QUALITY
HAND CRAFTED
YOU'LL LOVE THIS WARRIOR BONE BREAST PLATE SHIELD
*note
this product is not indian produced or an indian product
defined by 25 u.s.c. & 305 et. seq.   
Related Products